The project for our October KAL is Smoke Ring with Lace Edging, a versatile accessory you can wear laid on your shoulders as a dressy cowl neckline or pulled over your head as a wimple. A smoke ring is also sometimes referred to as a natchaq.
Get Ready for October's KAL now by checking out the shopping list and gathering your supplies.
The "smoke" part of the name smoke ring refers to the light-as-air fibers with superb warmth for their weight that are often used in making smoke rings.
Here are some characteristics to keep in mind as you pick the yarn to knit your smoke ring.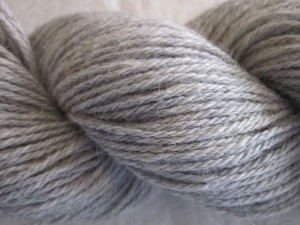 Treat Yourself — It Only Takes a Relatively Small Amount
Lace smoke rings require only a relatively small amount of yarn to knit them, thanks to:
1. the small project size (just enough to cover the head and lay upon the shoulders) and
2. the fact that lace is knit at a looser gauge than normal knitting and the holes take up less yarn than solid knitting!
This is great news for those who are looking for an excuse to treat themselves to using an exotic yarn, or even gifting someone else with a small amount of special yarn and pattern to go with it.
Soft and Uniformly Spun
Since the smoke ring will be worn close to the neck and about the face, you'll want to choose a yarn soft to your skin.
Also, a smooth, uniformly spun yarn will show off the lace to best effect.
Light-As-Air Warmth
Yarns in qiviut, cashmere, yak down, alpaca, angora, silk and wool blends with these fibers are just a few of the many good choices. These fibers have natural insulation properties without a lot of added weight (which means your hair will not get messed if you wear the smoke ring pulled up over your head).
Allow for Drape and Bloom
Choose a lace or light fingering weight yarn in a loose enough gauge to allow your chosen yarn to drape nicely when worn, and to allow the lace holes to be clearly seen.
This is especially important in fibers that "bloom"; i.e. they puff up and become fuller looking when washed and/or increase their halo more and more as worn. Examples are angora, qiviut, cashmere, bison, yak and other down fibers.
Also, see the article What Is Blooming? at my HeartStringsFiberArts.com website.