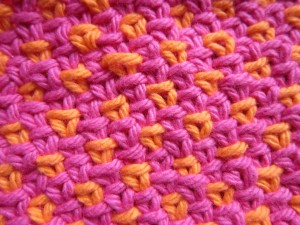 Since the Spot Woven Stitch produces a dense, non-stretchy fabric, it can be used to make sturdy kitchen accessories other than just the small dishcloth we've made as our practice project for this month's KAL.
To start you thinking about other kitchen accessories you can make with spot weaving, see the guidelines below. Sizes are just a suggestion. Feel free to adapt to whatever size(s) you prefer (or for which you have enough yarn <g>). 
Note: Number of cast on stitches is based on the target gauge of 5 stitches per inch using worsted weight yarn (i.e. same as in our small dishcloth project).
Larger Dishcloth
I chose the small dishcloth size in the free KAL pattern as a quicker learning project than  a larger size. The small 6″ size is preferred by many of my dishcloth knitting friends because the cloth is not as heavy in the worsted weight cotton and dries more quickly than a larger size. Even if you normally prefer a larger dishcloth, the small-size Spot Woven Dishcloth can serve as a "scrubby" using the more heavily-textured wrong-side of the cloth.
For a larger dishcloth of 8″ square, cast on 40 stitches and follow the same instructions as for the small dishcloth size. You'll of course need more yarn; I estimate about
45 yards of a main background color (M)
25 yards of a spot accent color (A)
Mug Mat / Coaster
The small dishcloth size could be used as a large mug mat/coaster. Sort of like for the size mug I like to use with my coffee, lol. But usually I think of a mug mat/coaster being smaller than that. I think that about 4″ square makes a nice size for general use and gift sets.
For 4″ square, cast on 20 stitches and follow the same instructions as for the small dishcloth size. You'll of course need less yarn; for each mug mat I estimate about
11 yards of a main background color (M)
6 yards of a spot accent color (A)
Wouldn't it be fun to make up a gift set each with different colors? What a great scrap-bustin' way to use up small amounts of left-over cotton yarn.
Placemat
There's no reason that spot woven projects need to be square. For example, you can use spot weaving to dress up your table setting with this larger project. For each 18″ x 14″ placemat, cast on 90 stitches and follow the instructions for the small dishcloth except repeat rows 3 – 4 until length is nearly 14″ and you've completed 2 successive rows of M.
For each placemat, I estimate you'll need about
175 yards of a main background color (M)
105 yards of a spot accent color (A)
Hot Pad / Potholder
Knit 2 of the Larger Dishcloth size and seam all around with wrong sides together to make a double-sided hot pad or potholder. The extra layer assures protection from an oven-hot casserole scorching your table, or a pot handle burning your hand. Just be sure to use natural fibers like cotton or wool for best insulation. Acrylic is a poor choice as it can itself melt with high heat.
There's no reason that both sides need to be exactly the same. For example, if you reverse the roles of the M and A yarns for each side, you could call your project "opposites attract". (ok, I'm getting pretty silly now, but what is life without some smiles?)
An opposites attract version also has the advantage that you use the same amount of each color so that you are not left over with a lot more of one color than the other if you are using freshly-bought balls of yarn. For this option, you'll need about 70 yards of each of 2 colors.
Other Project Ideas?
I've also made clutch purses and rugs with the spot woven technique using other weights of yarn and different fibers. I especially like linen for purses and wool for rugs. These types of projects also benefit from the sturdy, non-stretchy fabric of the Spot Woven pattern stitch.
What other ideas do you have for spot woven knitting?
p.s. To expand the possibilities even more, I'll be back soon with instructions for in-the-round version of spot weaving. Stay tuned!