After the knitting of Little Beaded Pumpkin is completed, we are ready to finish with a light stuffing and closing off the bottom.
Stuffing
The saran wrap I used for the pumpkin stuffing is certainly non-traditional (or at least I myself had not used it in this way before).
I would not advise for non-decorative items (especially for any toy-type items that would be washed and dried!), but for something like this little pumpkin it works as a stuffing that will not migrate through the beaded interior (I did want to go to the trouble of an inner lining).
Also, the saran wrap is clear, so might somewhat preserve the luminous look of the beads. But I don't know if that might just be my imagination.
What do you think? What stuffing did you use?
Closing
Since the closure is at the bottom, it's not usually going to be seen anyway. So any simple securing of the remaining stitch loops will work.
But if you are wanting to improve your technique, here is another opportunity to use/practice the Gathered Woven Closure.
Final Step
And here is my completed pumpkin.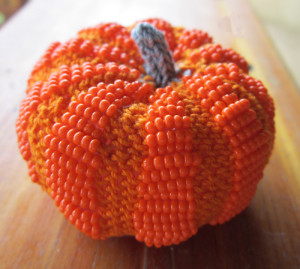 I'd love to see what yours looks like. If you have pictures and would like to share, there is a Member Photo Gallery onsite where you can upload your picture. Or if you have a blog, Ravelry project page, etc. just include a link to your pumpkin in the comments below.
Happy Fall!
p.s. I hope you will be knitting with us for the October KAL of Beaded Crescent Neck Lace that is just around the corner. Will you join us?