For the March BOBBOL knit-along, you'll get to bring together lace and beads to make an awesome drawstring bag for center-pull yarn balls or cakes. This project also introduces the crochet hook method of bead placement.
Pretty Awesome Yarn Pouch will give your yarn balls a pretty dress-up while protecting the yarn itself. The drawstring loops can also be placed over your arm for on-the-go knitting. Even your fussiest balls will love being tamed by this protective pouch.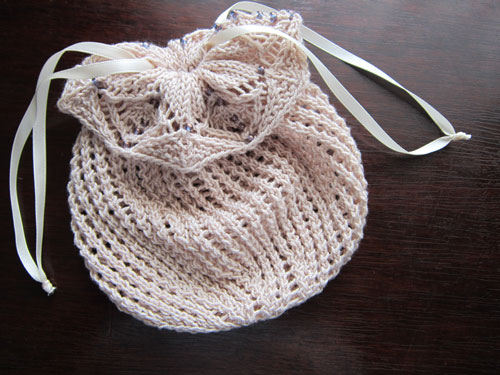 To use, just put your ball/cake in the pouch so that the center-pull yarn tail comes out the top, then pull the drawstrings closed. The peek-through spiraling lace mesh is super stretchy and will accommodate amazingly large balls/cakes. As the enclosed yarn is used up, the bag collapses to help keep the ball tidy and tangle-free.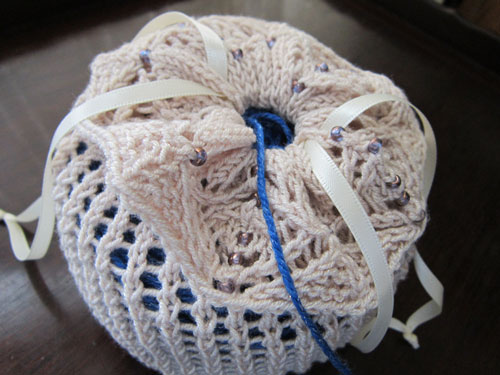 Shopping List
I wanted to give you a heads-up now about the materials and supplies you will need so you can be ready to start the project as soon as possible after the pattern goes live.
125 yards fingering weight yarn; choose something smooth and that won't rub off fibers onto the enclosed yarn ball
Size 4 US (3.5 mm) needles; 16″ circular and a set of double point needles
30 seed beads size 6/0 (4 mm diameter)
Crochet hook that is small enough to fit through the hole in beads
Tapestry needle for gathering stitches at bottom of bag and for finishing ends
2 @ 22″ pieces of 1/4″ ribbon for drawstrings or other cording of your choice
Large-eyed tapestry needle or other blunt needle for threading ribbon through eyelets
Note: For the pictured sample model, I used Crystal Palace Panda Silk color #3030 (that I had left over from making Terzetto Lace Mitts) and Miyuki beads color #1884 Lavender Blue Gold Luster.
I'll be posting link to download the pattern in the Free Member Pattern area when I have the pdf  file ready. Stay tuned.
p.s. If you are new to KnitHeartStrings, be sure to Register Now for member-only content . The monthly knit-along pattern is free for download by active registered members only.