The Lace Doily Beret pattern instructions do not call for beads, but it's easy to add them  if you'd like extra bling. You can use the techniques or ideas you've gotten from other beaded BOBBOL 2013 projects this year. Just take care not to add so many beads as to turn the beret from it's feather-light design into something too weighty.
An idea is to use the crochet hook method of bead placement that makes it easy to play with your own design in more than one color of bead without much pre-planning. Here are guidelines for outlining the 6-petal medallion in 2 colors of beads.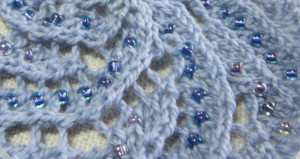 I used Miyuki size 6/0 glass seed beads (4 mm diameter) similar to what we used in the Pretty Awesome Yarn Pouch and Dolly's Top-Down Tri Shawl that also use fingering weight yarn and the hooking beads method. Since 2 strands of yarn needs to be pulled through the bead hole (i.e. both sides of the stitch loop), the holes in size 6/0 beads are a good size to accommodate that.
The slightly darker beads shown here are #1827 Amethyst-lined Aqua AB; the lighter are #274 Amethyst-lined Crystal AB.
In the petal areas, I placed a bead on the stitch before k2tog's and after ssk's. Here is a photo to see what it looks like when you have completed the petal medallion portion of the beret —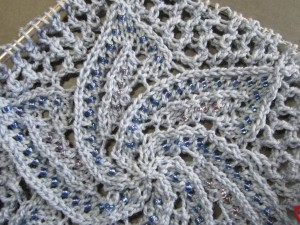 For this particular arrangement, I ended up using
17 darker color beads for each petal (i.e. total of 17 x 6 = 102 beads approx 8.5 g)
4 lighter color beads for each petal (i.e. total of 4 x 6 = 24 beads approx 2 g).
Compared to stringing the smaller, lighter weight size 8/0 (3 mm) beads directly on the fingering weight project yarn beforehand, the crochet hook method (or whatever other variation of hooking beads that you use) makes it easy to play with your own bead embellishment placement with multiple colors of beads without much pre-planning. But remember that with the hooking beads method, 2 strands of yarn need to be pulled through the bead hole, thereby necessitating larger beads (and therefore heavier). To keep the lace beret lightweight, just don't go overboard on how many beads you use.
Feel free to do something similar, or just use this example as a jumping off point for your own ideas if you want to add beads to your Lace Doily Beret. Or, for that matter, to other projects as well. Have fun playing with beads!