It's been a great year thanks to you and all the other wonderful KnitHeartStrings members who came together to learn, share and take the art of knitting to new heights.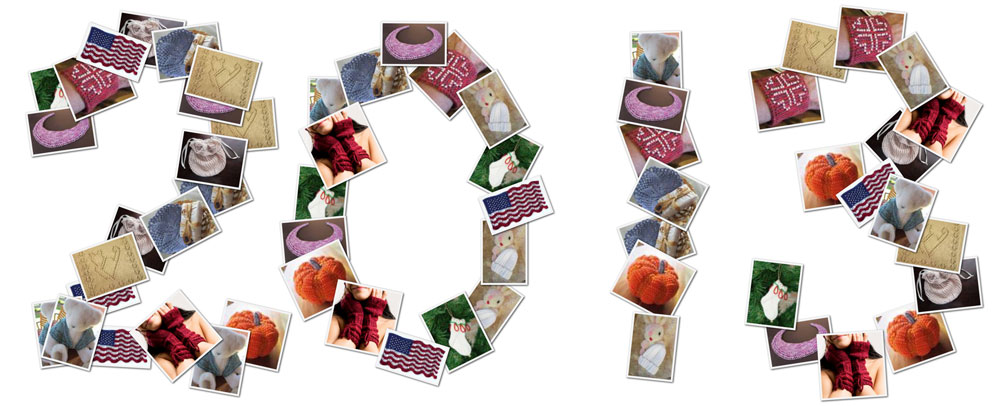 Before wrapping up 2013 and bringing in a new year of knitting, let's reflect on all we accomplished. And just how far bit-sized steps have brought us in building skills and enjoying knitting even more.
What Was BOBBOL 2013?
A darling little pattern project each month of 2013
All 12 patterns and the 71 support articles comprising BOBBOL 2013 are listed in the Previous KAL's section of this site.
BOBBOL stands for Bits of Beads/Bits of Lace, and expanded the popular Bits of Lace 2012 Series with additional types of small lace projects and the addition of projects for building skills in beading.
Our goal was to learn and knit along with a little pattern project each month of 2013; i.e. a total of 12 patterns!
Each project was relatively small so it would not involve very much time or materials. Each month's project was selected with a focus on building skills in bit-sized steps. Those bitty steps in learning can add up quickly! Even if you already knew how, I hope you found the projects fun (and some of you even picked up a tip or trick along the way).
TinaLu wrote: " You have brought my knitting to a whole new level and I'm enjoying every minute! "
Bits of Beads and Bits of Lace and Both
Some projects in 2013 were lace and some not. Some were beads and some not. Some were both! Here is the actual break-down:
Beads only: 4
Beading Hearts Friendship Bracelet (January)
Bells on My Toes Holiday Beaded Mini Sock (July)
Little Beaded Pumpkin (September)
Easy Elegance Mitts (November)
Lace only: 4
Seemingly Simple 2-Needle Preemie Hat (February)
Pinwheel Flower (May)
Kitty In Your Lap Towel (August)
Lace Doily Beret (December) – note: a support article for the KAL also covered some  guidelines for beading the beret
Beads + Lace: 4 
Pretty Awesome Yarn Pouch (March)
Mini Lace and Beaded Flag (April)
Dolly's Top-Down Tri Shawl (June)
Beaded Crescent Neck Lace (October)
What Was Your Favorite?
Out of almost 20,000 free patterns downloaded by members for BOBBOL 2013, I certainly hope you found lots to enjoy knitting and keep you busy.
The TOP 3 patterns based on number of downloads were:
Pinwheel Flower
Pretty Awesome Yarn Pouch
Kitty In Your Lap
What do you think? Feel free to comment here and share your BOBBOL 2013 favorite(s) and why.
Wrapping Up the Year
Thank you for making BOBBOL 2013 so successful and I hope you will continue to knit along for Beyond BOBBOL in 2014!
Reminder – Wrapping up this year's BOBBOL focus on beads, it's almost time to draw the winner of December's Giveaway. It is a Special Edition kit with beautiful combo of yarn and 2 colors of beads to make a beaded version of Lace Doily Beret. See details and how to win on the Prize Giveaway page.