I am excited to announce that the Little Beaded Pumpkin pattern is available now for free download by KnitHeartStrings members doing the September KAL.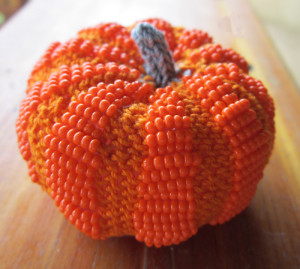 Remember to be logged into your KnitHeartStrings member account. Then either go to the FREE AREA of the site, or directly to the pattern page here.
If you are a Premium Level member of KnitHeartStrings (thank you!), you can also get the Little Beaded Pumpkin delivered to your Ravelry library for free. Here is your coupon (or you can access the link to the page with the Ravelry coupon anytime from the Premium Area of this site).
Remember that this free download is a time-limited offer expiring at the end of this month, September 30, 2013, and is for active registered members of KnitHeartStrings (either at the Free Level or Premium Level).
Happy knitting!
p.s. Not a member of KnitHeartStrings yet? To tempt you, here is a free view of the cover page for this month's KAL pattern. I hope you will  JOIN US to knit-along this month and  future KAL's.