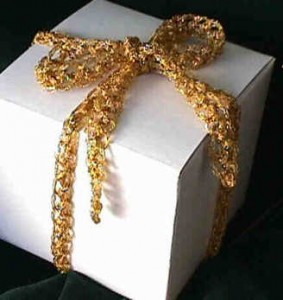 There is a saying that goes something like "the best things come in small packages". Around here we say "the best gifts are tied with heartstrings". Even a little heart-felt knitted ribbon can make your gift stand out and be memorable.
I think that lace Knitted Ribbons have come close to making the almost perfect all-around bitty project for everyone. Here are 10 top reasons (in no particular order) I've collected from Bits of Lace members' comments so far.
1. Easy.
Louise wrote: "The other projects have been above my level of ability, but I can do this one!"
2. Makes a gift package one-of-a-kind.
Marlene wrote: "So generous of you to give us this lovely holiday idea – I'll be making several, something original for the Christmas packages – thank you so much!"
3. Suitable for gifts on any special occasion.
Victoria wrote: "Thanks sooo much Jackie!! I love wrapping packages for Christmas and other special occasions.  This ribbon pattern is so unique."
4. Can use with other crafts like card-making.
Brenda wrote: "Thank you so much Jackie, I love them, my daughter … will, too … Some friends got her making beautiful cards, and she would just love the ribbons to decorate them with …"
5. Eco-friendly.
Sylvia wrote: "This is a great idea. I much prefer this to buying all that ribbon that just gets thrown away. I just love your patterns and I am so glad I joined."
6. Can be used on gifts for anyone.
Sylvia wrote: "When I get some time, I am going to browse around in your archives. I love knitting lace but don't do it too often as I have all boys and I tend to knit sweaters, afghans, socks – but not lace. They will be getting lace ribbons on their Christmas gifts this year though. :)"
7. Stash-busting.
Rita wrote: "Thank you, Jackie.  My ribbon stash is getting low, now I can just knit them.  What a great stash busting project too."
8. Makes a package look stunning.
Kadri wrote: "I thought the package looked soooooooooooooooo stunning." See a photo on Kadri's Ravelry project page of her package wrapped in the lace ribbon she knitted.
9. A nice take-along project.
Judie wrote: "Thank you Jackie. The ribbon patterns will be nice to have when we travel in the car. Here on Camano Is. we go a distance to the store etc. Love sparkle at Christmas time."
10. Doesn't take long to make.
Lauren wrote: "Thank you so much for yet another wonderful pattern!! Just in time for the Holidays."
What's your reason for knitting ribbons?