Are you ready for this month's Bits of Lace project? It is the Spiraling Diamonds Lace-edged Towel. We will be knitting a lace edging to turn an ordinary towel into something extraordinary. I'm excited about it and hope you will like it, too. Whether for yourself or a gift for someone else, your Spiraling Diamonds Lace-edged Towel will have a special place in the heart and home.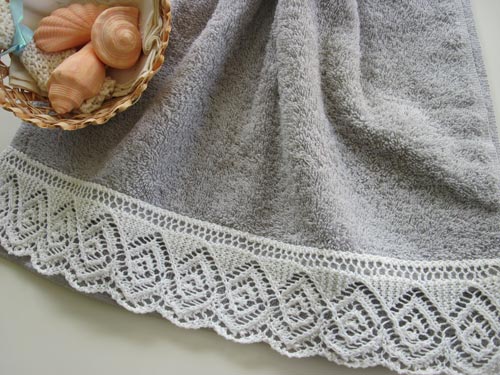 Use this pattern as written to decorate a small hand towel, or feel free to make the lace edging for a smaller fingertip or a larger bath towel.
This August project pattern will be available free to KnitHeartStrings.com members through the end of August only. Download the pattern now and knit along while learning throughout the coming weeks with bonus bit-size tutorials, tips & techniques.
Knit along, learn along, and enjoy the making!
p.s. If you are a new member and have not yet confirmed your newsletter invitation, be sure to do that so you do not get disconnected/removed from the system and can no longer access this site for members-only content. More info at The Key to Keeping Your Free Membership Active.

Printer Friendly