December's KAL is Lace Doily Beret. This project wraps up the year of BOBBOL 2013 by bringing together some previously seen key techniques plus some new things to produce a flattering, lightweight beret that is fashionable without flattening your hairdo.
The beret is constructed in the style of a lace doily with a center start and repeating medallions. The pattern instructions do not call for beads, but feel free to add them if you'd like using any of the techniques or ideas you've gotten from other projects this year.
Featured Techniques
easy center start
double yarn over honeycomb lace ground stitch
3-to-2 decrease
graduated needle sizing
blocking in 3 dimensions over a plate
Although the pattern doesn't specifically call for beads, I'll show an example where the crochet hook method makes it easy to play with your own design in more than one color of bead.
Lace Doily Berets knit up quickly, so you might find yourself making several colors to go with everything in your wardrobe. I've used fingering weight yarn with knitting needles for circular knitting in sizes US 3 –  6 (3.25mm 4mm) to create a shallow French-style beret approx 11″ in diameter. If you want a deeper, slouchier tam, you can either knit more of the lace ground and block larger, or you can use sport weight yarn and go up a needle size or two.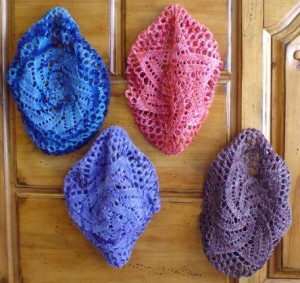 The Lace Doily Beret pattern is available free to download by KnitHeartStrings.com members through the end of December 2013. (Be sure you are logged in with your KnitHeartStrings member username, or you can register here.)
Knit along this month while trying new things and learning with bonus bit-size tutorials, tips & techniques. Will you join us?