Learn something new in the New Year!
Let's get started with another whole brand new year for KnitHeartStrings members to come together to learn, share and take the art of knitting to new heights.
Beyond BOBBOL 2014 carries on the tradition of learn-and-knit-a-longs for small projects while learning and practicing in bit-sized steps. If you have been avoiding learning to knit with beads or to knit lace or to try other new things because you think it is too hard, I am going to tempt you with a little project each month that involves just a few stitches.
To get a sneak peek at the 2014 Beyond BOBBOL pattern for January – I Heart Filet Lace – see Next Up KAL.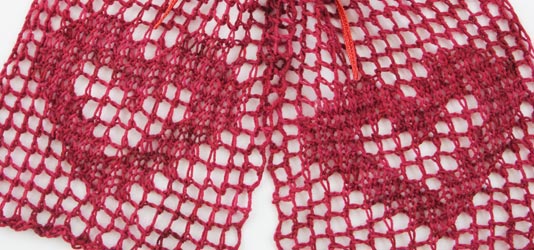 PSSST … Premium members get early access to the January KAL pattern! Check the Premium Area for your coupon code to deliver the pattern free to your Ravelry library now.
Please read this important information to get the most out of your membership:
– All members can download January's Beyond BOBBOL KAL pattern for free Jan 5 – 25, 2014 from the KnitHeartStrings site, but you will need to be at the upgraded Basic or Premium levels after that to get future monthly patterns at no cost as part of your membership level benefits.
– Want to continue to get the monthly KAL pattern at no cost each month throughout 2014? I've set up a new mid-tier Basic Level at KnitHeartStrings where you can do that! Upgrade before January 25th and lock in to a discount of $5 a year off the regular price. Or consider the Premium Level for extra benefits such as getting early access to the pattern for free via a coupon code for Ravelry Library Delivery.
– Don't worry if you can't/don't want to upgrade — Free Limited Content members still get free access to support articles for the current KAL and all previous KAL's. You will also have the option to purchase the monthly KAL pattern at a discount should you decide you want to get that month's pattern then.
Wishing you a happy and blessed New Year, Jackie E-S