Jessica wrote: "… My knitting skills are growing SO quickly in regards to
texture, lace, and beading. Thank you so much Jackie! "
December's KAL for Lace Doily Beret wraps up the year of BOBBOL 2013 with some techniques we have seen previously (you can use these as a practice review or just applaud yourself on all you have accomplished so far). There are also some new things to continue our journey in taking the art of knitting to new heights.
Center Start
To get started on the Lace Doily Beret, there is a photo tutorial for Easy "Cheating" Center Start to help you if you need it.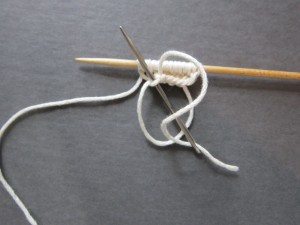 Yarn Overs at Beginning of Round
The rounds of Lace Doily Beret often begin with a yarn over (or even a double yarn over), so a review of this similar technique article should be helpful if you are pondering how this might work and look.
New Journeys
Watch for upcoming discussion of these other techniques used in later stages of knitting Lace Doily Beret:
3-to-2 decrease
graduated needle sizing
beret vs. tam?
blocking in 3 dimensions over a plate(s)
p.s. Are you in? Plan now for KnitHeartStrings 2014: Small Projects with Big Impact. KnitHeartStrings members get bit-sized tutorials, tips and techniques, along with a free pattern. Please help me spread the word and invite your friends to join at KnitHeartStrings.com.