January 2014 Giveaway – 2 Waffle Weave Towels: Hearts and Cats  at Play
To go along with the theme of this month's even-count designs, I found these delightful Waffle Weave towels to award to a lucky winner at the end of January 2014. I love their square "waffle" background that reminds of the filet lace we are knitting this month!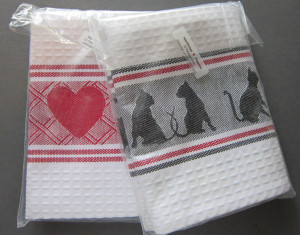 One towel features hearts and the other a series of playful pairs of cats. These are top quality 100% cotton towels with the designs woven in (not printed). Very absorbent for use as kitchen towels, you can also add delight to your meals and interior decorations by using them atop serving trays or side tables.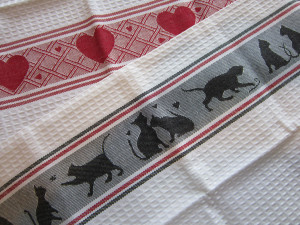 They are a generous 20″ x 30″. And of course are machine washable and dry-able to make your life easier and leave more time for knitting.
To enter the January Prize Giveaway
You don't have to do anything if you are Premium Level member — you are automatically entered as part of your Premium members benefits! However, if you want to increase your chances of winning even more, you can also purchase anything from the KnitHeartStrings Store during January 2014 and you will get an additional entry.
Not  a Premium member? To enter the giveaway, you can purchase anything from the KnitHeartStrings Store during January 2014 (any purchase already made this month will count). This includes upgrading to Premium Level or making a donation (see sidebar to right).
The random drawing  will be held on February 1, 2014 and announced shortly afterwards.  Good luck!