First I need YOUR help in choosing which color beads to put in this month's Prize Pack. I've come down to these 3. Can you please help?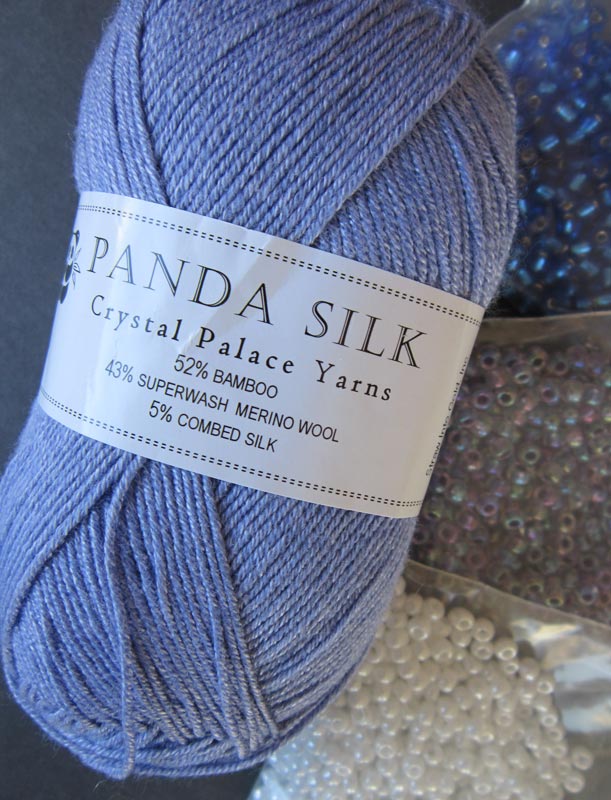 What bead color do you like with this yarn?
Ends March 25, 2013 @ 12:00 pm
Silver-lined Sapphire (darker contrast: upper) (145 Votes)
Amethyst Lined Crystal AB (tone-on-tone: middle) (141 Votes)
White Ceylon (lighter contrast: lower) (41 Votes)
Total Voters: 327
Loading ...
I know monitor colors are not accurate. And it oftentimes DOES make a difference in what the combination of bead and yarn looks like then the yarn is going through the bead (especially when the bead is transparent or semi-transparent). But take your best shot — it's just for fun. There's no right answer, otherwise I would have already chosen, lol.
Now for the Prize Pack to be given out at the end of month — It will contain all these delightful goodies to make another Pretty Awesome Yarn Pouch:
1) Crystal Palace Panda Silk in color 3035 Light Periwinkle
2) Beads in color to be determined by the poll results above
3) Satin ribbon for the drawstrings
4) Tiny crochet hook to use with the beads
5) A pretty awesome beaded stitch marker
6) Printed pattern signed by yours truly (I don't know if that makes it more valuable, but ya' never know if I get really famous, lol)
How would you like to win all that? Order anything from the KnitHeartStrings Store before March 31, 2013, and you will get an entry into the drawing. For Premium Level members, you automatically get an entry, so you will get an additional entry if you order.
The random drawing  will be held on March 31, 2103 and announced shortly afterwards. Winner will be contacted by email and I will get your shipping address then. Good luck to everyone!
p.s. Even if you are not entering the Prize Pack giveaway, please do vote in the poll above so we can get a good tally of the group's preferences. Thanks!