April's project in the BOBBOL 2013 Series
BOBBOL stands for Bits of Beads/Bits of Lace, and expands the popular Bits of Lace 2012 Series with additional types of small lace projects and the addition of projects for building skills in beading.
For April, we knitted Mini Lace and Beaded Flag, a miniature version of the red, white and blue U.S. flag. The lacy stripes and beaded stars symbolize the flag proudly waving in the breeze.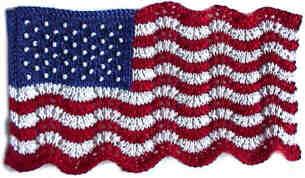 Originally I was thinking we would do this project in May as a tribute to Memorial Day and also to be ready for the 4th of July Holiday. However, doing the project one month earlier should allow everyone to be done in time to celebrate Memorial Day.
Apologies to our non-U.S. members. I hope you will still knit along as there are a bunch of things I am going to point out that you can practice now and carry over to other projects. For example, a neat trick to carry the unused stripe color up the side without showing. No extra weaving in of ends!
If you missed the knit-along for Mini Lace and Beaded Flag, you can purchase the pattern now and still take advantage of free support articles for making this project.
Knit, learn, and enjoy the making!
p.s. If you are a new member and have not yet confirmed your newsletter invitation, be sure to do that so you do not get disconnected/removed from the system and can no longer access this site for members-only content. More info at The Key to Keeping Your Free Membership Active.