Building on Basics: Even the simplest lace knitting looks impressive and invites awe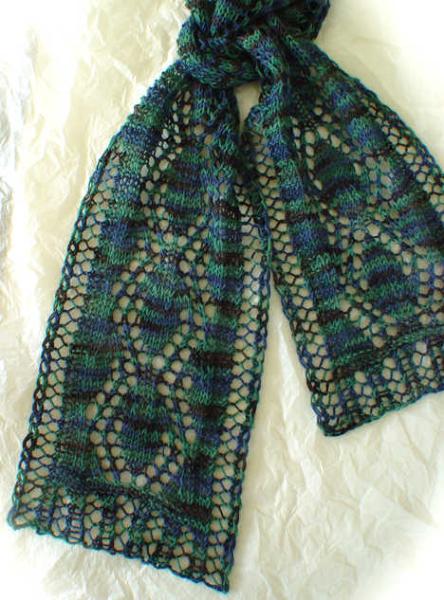 Springtime means renewal and growth. And so I felt it appropriate to feature a spring-themed Narrow Lace Leaves Scarf as our March KAL. Depending on where you are in your lace knitting journey, I challenge you to
– learn something new
– reinforce and grow confident in your skills
– simply be inspired and enjoy the ride.
Spring Lace Leaves Scarf pattern is the special edition version of Narrow Lace Leaves Scarf being offered for Beyond BOBBOL 2014.
March's project is an example of the approach I often use for end-to-end, one-piece  scarves with a central lace pattern surrounded by a knit-as-you-go lace border. Since there are no seams to sew or graft, or even picked-up stitches to work separate sections, the lace just flows off the needles. Except for a final blocking, it is a "when you are done, you are done" project. And at the finale, there is always a magic moment when the lace is blocked out to show all of its airy beauty.
Although the pattern does not call for adding beads, feel free to do so if you want to using any of the methods we've gone over in previous KAL's.
Featured Techniques
Combining knitted lace and lace knitting
Knit-as-you-go lace border
Bias effects in lace patterning
Bonus Extras
Beading chart for outlining the lace leaf motif
Converting an end-to-end scarf into a matching ends version of 2 identical halves joined with "pull over" bind off
Missed the March KAL? You can purchase the pattern now and still take advantage of free tutorials, tips & techniques articles in the March 2014 archives at KnitHeartStrings.
Not A Member Yet?
Not a KnitHeartStrings knit-along member yet? To take full advantage of all the support articles in the KAL for this pattern and future patterns, you can register here for free to try out KnitHeartStrings for 30-days (includes getting your first KAL pattern for free).
During or after your 30day trial, you can then decide whether you want to upgrade to the Basic or Premium membership levels, or stay at the no-fee level with Limited Content privileges.
Knit, learn, and enjoy the making!