February's project in the BOBBOL 2013 Series
BOBBOL stands for Bits of Beads/Bits of Lace, and expands the popular Bits of Lace 2012 Series with additional types of small lace projects and the addition of projects for building skills in beading.
For February we are getting back to doing lace. I hope you enjoy Seemingly Seamless 2-Needle Preemie Hat. This project is the first in BOBBOL 2013 to expand our scope of Bits of Lace beyond edgings into other types of small lace projects.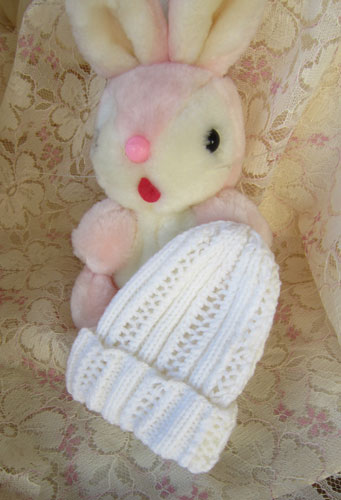 This preemie hat is simply knit flat back and forth on 2 needles. Your knitting friends won't believe that you didn't knit this hat circularly! What is clever is in the finishing, where the seam is sewn to mimic the herringbone lace stitch, and thus appears to be "seamless". This pattern reveals the secret that makes this work.
If you missed the knit-along for Seemingly Seamless 2-Needle Preemie Hat, you can purchase the pattern now and still take advantage of the free support articles for making this project.
Note: Seemingly Seamless 2-Needle Preemie Hat is sized for premature babies, but you can easily upsize it for newborns (or larger) by adding pattern repeats or making with thicker yarn on larger size needles.
This month's project is dedicated to Sally Brooke, an active member and officer of the New Orleans Half-Fast Knitting Guild. At her request and encouragement, I designed a collection of preemie cap patterns for our guild's 1989 service project. The 2-Needle Preemie Hat is one of my favorites from that collection, and it holds fond memories of Sally. We all miss her buoyant laughter. RIP
Knit, learn, and enjoy the making!
p.s. If you are a new member and have not yet confirmed your newsletter invitation, be sure to do that so you do not get disconnected/removed from the system and can no longer access this site for members-only content. More info at The Key to Keeping Your Free Membership Active.