Thanks to everyone for participating in the KnitHeartStrings KALs over the last few years. Your membership is truly appreciated. Here's to another year of knitting fun together.
Along with the Beyond BOBBOL series of bit-size KAL learning projects, monthly giveaways are part of the fun that is continuing in 2015.
To close out last year's giveaways, congratulations go to Martha Dolbeer for winning the drawing of a Premium Level Membership. Since Martha is a current Premium Annual member, the prize extends her Annual Premium membership by another year.
January 2015 Giveaway – Hearty Hearts
Here is the first prize giveaway to kick off the year. You could be this month's lucky winner.
Hearty Hearts 100% Linen Jacquard Woven Towels
Linen is special in a practical way. The naturally anti-bacterial fibers dry quickly, resist mildew and keep germs at bay.
The winner will receive 2 Hearty Hearts linen towels, one of each color blue and green. Each towel is approximately 20″ x 28″.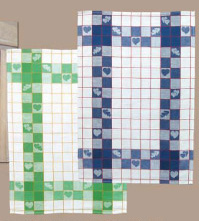 These towels are attractive on both sides because the design is actually woven into the fabric rather than printed on. They will be sure to find many uses, e.g. in your kitchen, or as a lap towel while knitting/crocheting/spinning, or a tea tray cloth, etc.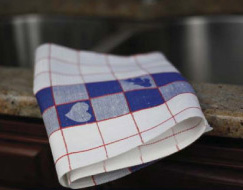 Regular price $11.95 each. Additional towels are available in the KnitHeartStrings Store here.
To Participate in the Hearty Hearts Prize Giveaway
See how to enter the drawing on the Prize Giveaway page. Good luck!