Remember to update your Member Profile at KnitHeartStrings for the new Birthday Month and Ravelry ID fields. I've got some fun stuff in store for you if you do.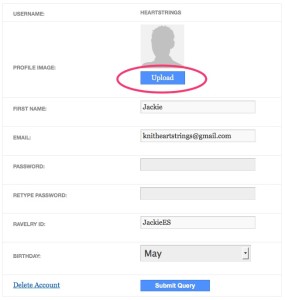 And while you are updating Member Profile, feel free to upload a picture for your Profile Image. It makes it a lot more fun to see each other rather than a gray ghost, don't you think?
I apologize if you tried to upload a profile image in the past few days. Thanks to Ray in CA for bringing this to my attention this morning. I immediately got to looking around and discovered I inadvertently made a change in the system settings that turned the Upload function off. The Upload button is there now, though!