Looking for something?
Try searching for it here. If you need help or have questions, don't hesitate to ask. You can leave a comment here or write me directly at jackie@heartstringsfiberarts.com
---
Popular Now

Other items you might be interested in
Lacyflakes e-Pattern (knitted snowflakes)
Knitted lace snowflakes! I have always been intrigued by the fact that in God's handywork, no two snowflakes are alike. This pattern includes 2 types of construction, each quite different from the other, plus variations for knitting snowflake medallions.
$7.00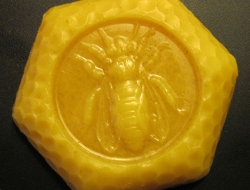 Beeswax Cake
This hand-poured 1 oz. Beeswax Cake from a local Colorado beekeeper makes a pretty addition to your sewing/knitting basket, and so useful, too. It is pure refined 100% Beeswax with natural alfalfa honey scent. Smooths wooden/bamboo needles, strengthens thread for beading/sewing/quilting, and much more. The slightly sweet, flower scent is soothing, too. Priced right to get one for yourself and some more to gift friends.
$2.00
Purple Hyacinth (Egyptian) Bean Vine Seeds
Beautiful green vine with delicate pink flowers. When mature, pods turn to a shiny, magenta (2-3"). Blooms and pods are useful as cut flowers; pods may also be dried.
Each seed pack contains 4 - 5 pods (approximately 10 - 12 seeds total).
Label information for Jackie and the Beanstalk Magic Seeds
Fast-growing annual with flowering 10' - 15' vine. Grow in full sun in a moist, nutrient rich, well-drained soil. Pretty purple flowers bloom summer through fall. After flowers bloom, bright purple pods will form.
To plant: Remove seeds from pods. After threat of frost, plant seeds 1/2" deep and 6" apart. Allow 2 - 3 weeks to germinate. As a vine, they need some type of support to climb. I just planted the seeds near my fence and they found their way by themselves.
$4.00
Supplies Pak for Bitty Beaded Christmas Tree (does not include pattern)
You'll get the materials you need to make one Bitty Beady Christmas Tree. NOTE: PATTERN NOT INCLUDED. Please purchase
downloadable e-Pattern
separately.
Your choice of yarn and bead colors.
A floss threader is included if you want to string your own beads OR you can purchase the upgrade option to get the beads already strung on the yarn ready to start knitting right away!
$3.95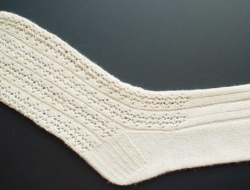 Luxury Lace Socks e-Pattern
These fine gauge luxury socks are designed especially for laceweight yarn. Knit them as an extra special treat for your feet.
$6.00
Beaded Lace II Scarf e-Pattern
Knitted-in beads enhance the contours of a simple to knit swirly lace rectangular scarf. Only three pattern rows produce this lovely design!
$6.00