Looking for something?
Try searching for it here. If you need help or have questions, don't hesitate to ask. You can leave a comment here or write me directly at jackie@heartstringsfiberarts.com
---
Popular Now

Other items you might be interested in
Maple Leaves Scarf e-Pattern
This delicate lace scarf is designed with a knitted lace pattern stitch where the silhouette of yarn over eyelets is reminiscent of maple leaves. The attractive textured lace border is knit at the same time as the center area of maple leaves. Thus, the knitting is done entirely from end-to-end in one piece with no picked up stitches or seams to sew.
$6.50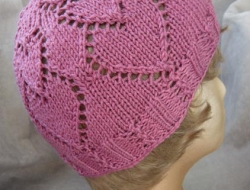 Thinking of You Too Hat e-Pattern (cancer awareness edition)
Say "I'm thinking of you" with a hand-knit hat of lace hearts. Thinking of You Too Hat reflects the bonds of friendship symbolized in HeartString's signature stitch design of cascading interlocked lace hearts. A portion of sales is donated to cancer research.
$6.50
Honeycomb Shadow Lace Stole e-Pattern
Honeycomb Shadow Lace coordinates a lighter-color textured yarn and a darker color smooth yarn to give 3-dimensional illusion of shadows inside the spaces.
$7.00
Peppermint Sticks 2 Socks e-Pattern
Unique cuff/leg in spiraling stripes are knit lengthwise side-to-side rather than circularly. For people with narrow ankles relative to leg size, just twist the bias stripes further when wearing for a nice no-sag fit.
$6.00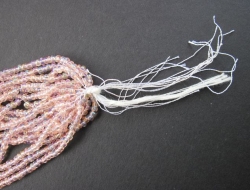 Transferring Pre-strung Beads (PDF article)
Step-by-step visuals to show how to transfer beads pre-strung on a temporary thread to the project yarn/thread.
$1.00
Smoke Ring with Lace Edging e-Pattern
This versatile accessory can be worn pulled down around the neck to lay on the shoulders as a dressy cowl neckline, or pulled up over the head as an elegant head covering.

Begin with a strip of pretty lace edging knit flat. Detailed instructions are included for beginning the strip with a provisional cast on and grafting for an invisible seam. Then pick up stitches and knit circularly in another lace stitch pattern. A decorative bind off completes the smoke ring knitted tube.


$7.00