Looking for something?
Try searching for it here. If you need help or have questions, don't hesitate to ask. You can leave a comment here or write me directly at jackie@heartstringsfiberarts.com
---
Popular Now

Other items you might be interested in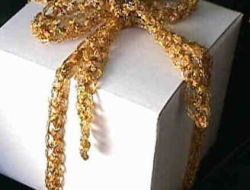 Knitted Ribbons e-Pattern
Fancy package ties to be enjoyed beyond opening the gift. These easy to knit lace ribbons will make your gift one-of-a-kind.
$4.00
Supplies Pak for Easy Elegance Mitts in Mohair/Wool (does not include pattern)
Indulge yourself with easy elegance. This Supplies Pak contains enough mohair/wool yarn and beads in your choice of color combo to make a pair of Easy Elegance Mitts up through size extra large. When knitted, the beads sparkle amidst the soft halo of the brushed mohair.
Includes 2 - 50g/85 yd balls of Heirloom Aristocrat 12 mohair/merino yarn, small spool of tencel thread in coordinating color for supplemental beading thread, 15g pak of size 8/0 beads, and collapsing eye nylon needle to string beads. NOTE: PATTERN NOT INCLUDED. Please purchase
downloadable e-Pattern
separately.
Note: Colors are running out fast. You might want to add a "Note to seller" on your PayPal payment to let me know if you have a 2nd or 3rd choice. I am filling requests as received. First come, first served. Please use the remaining quantities as a guideline only for those colors getting really low. I will try to keep the listing as up-to-date as possible.
$24.95
Beaded Shamrocks Socks e-Pattern
Celebrating St. Patrick's day and Springtime - shamrocks and the promise of faith. Legend has it that St. Patrick used the shamrock to communicate the doctrine of the Trinity. The three leaves combine to make a single plant, just as the Father, Son and Holy Ghost combine to make the holy Trinity.
$7.00
100% Cotton Waffle Weave Kitchen Towels
These are top quality 100% cotton towels with the designs woven in (not printed). Very absorbent for use as kitchen towels, you can also add delight to your meals and interior decorations by using them atop serving trays or side tables. They are a generous 20″ x 30″. And of course are machine washable and dry-able to make your life easier and leave more time for knitting.
$9.95
Seed Beads - Size 6/0
High quality Japanese glass seed beads (a.k.a. round rocailles) by Miyuki in size 6/0 (4 mm diameter). Use this size bead for stringing on thicker yarns than fingering weight, or for crochet hook method with fingering weight yarn.

Beads are packaged in clear zip-top bags for easy handling; no tubes to roll around or tops popping off and spilling beads. Approximately 240 per 20g bag unless otherwise noted (premium lustre beads come in smaller 10g bags; mixes come in 15g bags).

Note: not all colors shown on pictured Miyuki sample cards are available. Please use product selection drop-down for in-stock colors.


$4.00
Lacyflake #1
Snow is beautiful, especially when you can stay warm and cuddly indoors while knitting snowflakes. This small snowflake medallion starts at the center and grows in lacy rounds until completed with a free-form lace bind off technique.
$5.50