Looking for something?
Try searching for it here. If you need help or have questions, don't hesitate to ask. You can leave a comment here or write me directly at jackie@heartstringsfiberarts.com
---
Popular Now

Other items you might be interested in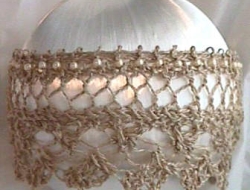 Antique Satin and Lace Ornament e-Pattern
Antique Satin and Lace Ornament makes a stunning heirloom gift and remembrance for the holidays. Fine lace knitted edging and pearl seed beads suggests the look of an antique ornament. This special edition for the Bits of Lace series includes both written and charted instructions.
$6.00
Hemstitched Linen Handkerchief
Finest pure white Ulster 100% Irish linen handkerchief with narrow 1/8" hem and decorative hemstitching. 10½" square. Exquisite true Irish linen is worth your money and time to make an heirloom for someone special.

This handkerchief is ready for you to embroider or add your own handmade lace edgings. The narrow hemstitched hem makes the ideal basis for a crocheted, knitted, or tatted lace trim.
$16.50
Supplies Pak for Mini Lace and Beaded Flag (does not include pattern)
Knit a miniature version of the red, white and blue U.S. flag. The lacy stripes and beaded stars symbolize the flag proudly waving in the breeze. Finished size approximately 3" by 5". NOTE: PATTERN NOT INCLUDED. Please purchase
downloadable e-Pattern
separately.
Supplies Pak includes 3 balls of size 8 DMC pearl cotton, size 11/0 Miyuki Japanese glass seed beads, and collapsing eye twisted wire needle for easy stringing of the beads. Enough materials to make several mini flags.
Note: I have run out of colors as made for the original sample. Your supplies pak will include threads in ecru, imperceptibly different shade of red, and your choice of wedgewood #311 or navy blue #823 (wedgewood is slightly lighter). Beads are pearl ceylon to coordinate with the ecru thread. You can't go wrong with either choice depending on whether you prefer an Early Americana or Country Americana look.
$9.95
Honeycomb Shadow Lace Stole e-Pattern
Honeycomb Shadow Lace coordinates a lighter-color textured yarn and a darker color smooth yarn to give 3-dimensional illusion of shadows inside the spaces.
$7.00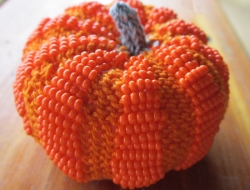 Little Beaded Pumpkin e-Pattern
Tiny and adorable. This little beaded pumpkin will be the hit of your fall holiday decorating and entertaining.
$5.50
Spider-Web Sockies e-Pattern
Themed companion socks, one with a spider and the other with a web, knitted in lace and beaded stitches.
$6.00