Looking for something?
Try searching for it here. If you need help or have questions, don't hesitate to ask. You can leave a comment here or write me directly at jackie@heartstringsfiberarts.com
---
Popular Now

Other items you might be interested in
Flames of Fall Stole e-Pattern
Delight yourself with the color and texture of Flames of Fall. Beads and flames of lace endue a soft glow of warmth in this pleasingly reversible stole.
$7.00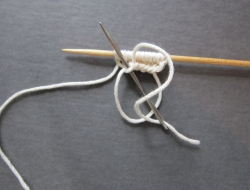 Easy Cheating Center Start (PDF article)
Here's an easy circular center start method that begins on just 2 needles. It might feel like cheating, but will still produce a neat, tidy center. (Available
free to Premium members here
.)
$1.00
A Touch of Beaded Class e-Pattern
Alternating light and dark accent beads add sparkle and stylish class to the scultped lace silhouette of this wide fashion scarf or shoulder stole.
$7.50
100% Cotton Waffle Weave Kitchen Towels
These are top quality 100% cotton towels with the designs woven in (not printed). Very absorbent for use as kitchen towels, you can also add delight to your meals and interior decorations by using them atop serving trays or side tables. They are a generous 20″ x 30″. And of course are machine washable and dry-able to make your life easier and leave more time for knitting.
$9.95
Drop Beads - Size 3.4 mm
High quality Japanese glass drop beads by Miyuki, approximately 300 per 15g. These beads are rounded at one end, and tapered at the other end where the hole is, i.e. they look like a teardrop!

and are sometimes referred to as fringe beads. Great for beads around the edge of a shawl or scarf, or dangling within a yarn over of knitted lace, etc.
Beads are packaged in clear zip-top bags for easy handling; no tubes to roll around or tops popping off and spilling beads. Approximately 300 per 15g bag.
See sample card to get approximation of color. The two transparent crystal colors are similar. Choose the cool-toned crystal (DP-250) if you want the bead to add a bit of its own bluish and pinkish tones from the Aurora Borealis (AB) finish. Choose the warm-toned crystal (DP-131) for a perfectly clear bead to add sparkle to your yarn.
$4.00
Lacie Blankie e-Pattern
Even adults deserve a favorite blanket in which to cuddle and shut out the cares of the world! I am a firm believer that not all lace needs to be in tiny yarn on tiny needles. This beautiful and practical lace blanket is a perfect example of "moose lace", i.e. lace knitted in a large gauge in heavier yarn. The lace makes this blanket lighter in weight for its size.
$8.50