Looking for something?
Try searching for it here. If you need help or have questions, don't hesitate to ask. You can leave a comment here or write me directly at jackie@heartstringsfiberarts.com
---
Popular Now

Other items you might be interested in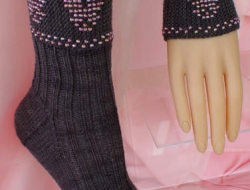 Spooky Beaded Treat Wristlets and Matching Socks e-Pattern
Beaded skull wristlets and matching socks for gals and guys to wear for some spooky fun.
$7.00
Sock Blockers
Sock blockers that are both beautiful and practical! These were designed and handmade exclusively for HeartStrings. They have a unique design that is functional at both ends to accommodate 2 sock foot sizes. Made of non-warping laminated hardwoods, beveled edges, sealed with four hand rubbed coats of polyurethane, and polished to a mirror finish.

These blockers are a work of beauty for display even when not being used to block socks! Sets are available in 3 sizes. Each set comes with 2 sock blockers in the same size.
$29.95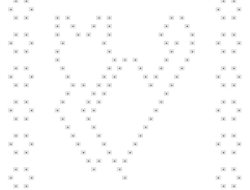 Beyond the Holes of Lace (PDF article)
In its elemental form, lace is just holes arranged in a pleasing pattern. I think that what makes lace design so intriguing beyond just the holes is the texture that complements the lace. The slant of the compensating decreases, and other twists and turns of the stitches in the fabric create an extra dimension of interest. (The picture shown is from Kitty In Your Lap Towel.)
$1.00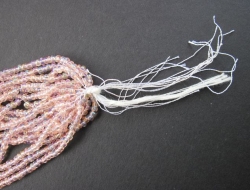 Transferring Pre-strung Beads (PDF article)
Step-by-step visuals to show how to transfer beads pre-strung on a temporary thread to the project yarn/thread.
$1.00
100% Cotton Waffle Weave Kitchen Towels
These are top quality 100% cotton towels with the designs woven in (not printed). Very absorbent for use as kitchen towels, you can also add delight to your meals and interior decorations by using them atop serving trays or side tables. They are a generous 20″ x 30″. And of course are machine washable and dry-able to make your life easier and leave more time for knitting.
$9.95
Swirling Lace Anklets e-Pattern
These low-top socks feature an intriguing lace pattern that curls this way and that way down the cuff, then continues along the top of the foot. Since the cuff is very short, these anklets can be made successfully with inelastic fibers like silk and cotton without fear of sagging.


$6.00