Depending on your yarn stash, you might have found a yarn you already had and would like to use it to knit the Spring Lace Leaves Scarf. If you are concerned about whether the yarn will work (like Nancy did below), this article will address some points to give you the confidence to proceed.
Nancy asked: " I have some midnight mohair. Would this work for this pattern? "
Color in Lace
When choosing a yarn, the first thing we usually are drawn to is color. But will it work for this project?
Color is a personal choice. Don't let anyone say you can't use a particular yarn color in lace. But keep these general guidelines in mind, too:
Lighter color yarns in solid, or closely-toned similar colors, usually show up lace patterns better.
Darker colors can be dramatic and attractive, too, especially if the yarn is shiny and reflects light, or will be worn over something light-colored.
For more about color in lace (or not), review this Bits of Lace 2012 article: The Heritage of White Lace
Matching (or adjusting) the pattern for the Yarn Size
Spring Lace Leaves Scarf calls for using fingering weight yarn with size US 5 (3.75 mm) needles suggested.
In answer to Nancy's question, I reply:
" Since mohair yarn comes in all kinds of sizes and weights, I can't say for sure if it will work for the pattern. This pattern calls for fingering weight yarn. So if you use your mohair, you will want it to be quite fine. If your yarn is heavier than that, you could use larger needles (which will produce a larger scarf and you will need more yarn than called for in the pattern).
Is there a needle size on a yarn band for your yarn? For lace, I usually go up 3 or 4 needle sizes from that.
The Lace Leaves Scarf pattern is worked on just 30/31 stitches, so you could at least give it a start with your mohair and see if you like what you are getting. "
Estimating the Needle Size to Use for Lace
What if you don't have a ball band on your stash yarn with a "standard" needle size to use as a starting point in estimating the needle size for lace? I'll show you how you can use your knitting needle gauge!
The idea is to use 2 side-by-side strands of yarn to estimate the "standard" knitting needle size as would normally be listed on a yarn ball band. By standard, I mean the gauge normally used for articles such as sweaters with medium drape (i.e. not dense like you would want for hard-wearing socks, and not fluid like a lace scarf/shawl).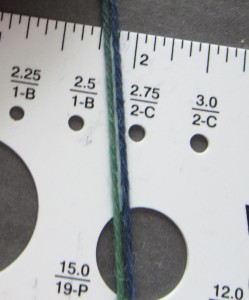 The hole in your knitting needle gauge that is just barely covered up by the 2 side-by-side strands is the "standard" knitting needle size. Then to estimate a needle size to use for something like a lace scarf or shawl, go up 3 to 4 needles sizes from that.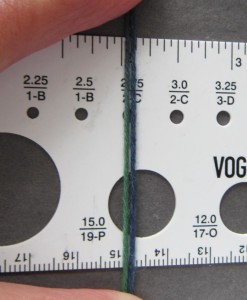 For the yarn shown here, the 2.75 mm hole is just barely covered up using the "2 strand method". 2.75 mm corresponds to a size US 2 needle. Going up 3 sizes gives us the suggested US 5 needles listed for Spring Lace Leaves Scarf.
Note: Going up 4 sizes might be too flimsy for this narrow of a scarf, but if I were doing a wider scarf or shawl, I often would use US 6 needles for this size yarn.
p.s. Just as an aside, a knitting needle gauge is also helpful in determining unknown bead sizes! See the blog article for What Size Beads Do You Have?