The gathered loops embellishment on the Easy Elegance Mitts is optional, but I think it does add a distinctive, stylish flair to these fingerless gloves.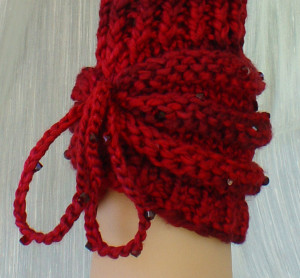 Please refer to the details given in the Finishing section of the pattern. The instructions say to use the Main Yarn for this finishing touch rather than Beaded Accent Yarn. This is because you will be using the yarn to sew through the 3 purl ridges to gather them similar to what is shown here. If there are beads on the yarn used for sewing, it will not go through the stitches!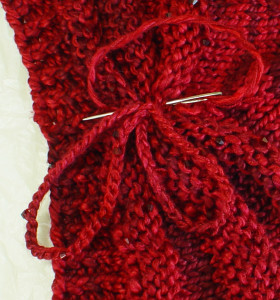 If you are like me, you'll want to take advantage of adding some extra bling to this embellishment (if you look closely at my photos, you will see beads and crystals on the loops). Here's how you can actually have your bling and sew, too: Crochet the chain portion for the gathered loops with the Beaded Accent Yarn, but then remove any beads from the 10″ tail used for sewing.
Note: Actually the photo above that illustrates sewing the 3 gathered purl ridges is of the matching Easy Elegance Hat that has wider purl ridges, but the sewing/gathering technique is the same for the Mitts.