Lace Doily Beret wraps up the year by bringing together many of the techniques for knitting lace you have had a chance to learn and practice along the way.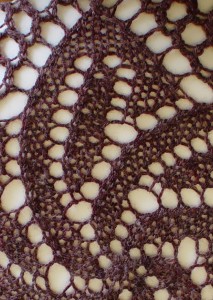 Besides the Easy Start Center Start technique that you can use to help begin beret, I wanted to recap some other key stitch techniques used in Lace Doily Beret. Most of these techniques we have encountered in previous KnitHeartStrings KAL projects for Bits of Lace 2012 and BOBBOL 2013.
In case you need a review or are a newer KnitHeartStrings,  here is a convenient listing  previous support articles to help you knit the rounds following the Center Start for your beret.
Yarn Overs and Stitch Markers
Many of the rounds have a stitch marker near a yarn over. To avoid a possible problem, read Watch Out for Wandering Yarn Overs Near Stitch Markers
Double Yarn Overs
Two successive yarn overs are used abundantly in the Lace Doily Beret. Read Distinctive and Decorative – the Double Yarn Over
We also previously covered Substituting a single yarn over for a double yarn over eyelet which you can consider. But do be aware that doing so will effect a smaller overall beret  since so much of the background honeycomb lace fabric is comprised of double yarn overs. Just a precaution — or maybe use this intentionally for a smaller child size?
The "No Stitch"
For those of you using the charted instructions, odd-numbered rounds 23 – 31 include the "no stitch" symbol. Often misunderstood or confusing to some, The "No Stitch" article can help demystify this symbol if it is new to you, and further explain why it is sometimes used in charts.
The 3-to-2 Decrease
In Rnd 33, we encounter a NEW stitch sequence that creates 2 stitches from 3 stitches. The stitches involved are not something new or difficult, but how they fit together to accomplish the balanced decrease of 3 stitches into 2 stitches is a bit unusual and something we have not yet encountered in our journey of taking the art of knitting to new heights. I'll be posting a photo tutorial with further explanation in the next-up article.
Shifting the Round
At the start of Rnd 35, the instructions call for shifting the round by one stitch. This is similar to what was done in Pretty Awesome Yarn Pouch, except the shift is in opposite direction.
~~~~~
Hopefully this recap will be helpful in reviewing and avoiding possible stumbling blocks in knitting your Lace Doily Beret. Let me know if you have questions about these or need other help. How are you doing?