The beaded projects we've had for our KAL's so far have basically just incorporated beads as an embellishment. The beads have been artistically attractive, but they have not been structurally vital to the form of the knitted object. For example, if the beads had not been used in Dolly's Top-Down Tri Shawl or the Holiday Mini Sock, we still would have ended up with a shawl or a sock.
That is not the case with this month's Little Beaded Pumpkin. The beading technique of sliding several beads between stitches actually creates the form. If the beads were omitted, we would have nothing that looks remotely like a pumpkin!
Here is the pumpkin after the knitting is nearly completed. Even before being stuffed lightly to plump the pumpkin, the form is clearly recognizable.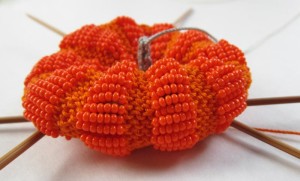 The structure of the beads themselves gives this project its delightful appeal.
Tip: Work stitches firmly on either side of the beads to keep them in place and from wandering into the neighboring stitches.