– indulge yourself  with easy elegance –
Let's kick off November's KAL! Easy Elegance Mitts are easy to make, yet look so classy. Knit them with or without beads. For the beaded version, you will learn ways to knit smaller-holed beads into yarns that are thicker or textured.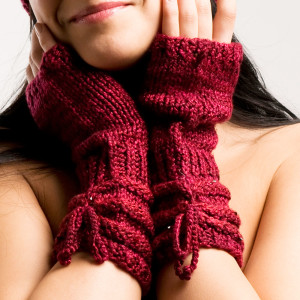 Featured Techniques
Knitting with beaded yarn (either purchased or making your own beaded accent yarn)

Plaited ribbing
Self-reinforced thumb slot (also good for any projects where you want a tidy, no-gaps horizontal buttonhole)
Get Ready to Knit!
See the Shopping List below to get your materials and supplies together now. Then knit along while learning with free bonus bit-size tutorials, tips & techniques starting around November 10th.
Nov 8th Update: Due to popular request, Supplies Paks to make Easy Elegance Mitts (in mohair/wool yarn like I will be using to demonstrate) are available in the Online Store in the Supplies Paks department. When knitted, the beads sparkle amidst the soft halo of the mohair. Check out the yarn/bead color combos currently available.
Shopping List
Stash dive or give yourself an excuse to visit your local yarn shop for these materials and supplies to make a pair of Easy Elegance Mitts:
2 – 50g balls of any type smooth or textured worsted weight yarn 

This yarn doesn't even have to be something you'd normally think of knitting with beads. (I will be using a soft and fuzzy mohair/wool yarn!)
Optional: 8 – 9 yards accent beaded yarn in similar gauge to main yarn above
This can be purchased yarn that is already plied with beads/crystals. OR if making your own, you will need:
– matching sewing thread OR size 10 or smaller crochet thread (I will be using size 10 tencel thread)
– any size beads or crystals you want to use, even the ones with tiny holes just so they can fit on the thread. You can get by with as few as about 100 beads/crystals; you probably don't want to use anything larger than a pea. Smaller is fine, too, and then you can use more. (I will be using 10g approx 400 assorted color size 8/0 beads)
Knitting needles, your choice of double point needles or circulars –
Size 10 US / 6 mm or size needed to give gauge of 4 stitches per inch over stockinette stitch using main yarn
Size 7 US / 4.5 mm or three sizes smaller than used to obtain gauge
Crochet hook size D / 3 mm (for making the chain stitch loops)
Free Pattern Download
Easy Elegance Mitts pattern will be available to KnitHeartStrings members as a FREE DOWNLOAD around November 10th. Watch your email inbox for announcement or check the Free KAL area to not miss out!
Note: Premium Level members have early access now. Check the Premium Area for your bonus pattern that includes both the mitts and a coordinating hat.