Forget the pumpkin pie. This little beaded pumpkin
will be the hit of your fall holiday decorating and entertaining.
For September's KAL project, we are totally into beads. Little Beaded Pumpkin is an adorable, miniature pumpkin knitted with tiny seed beads and thread.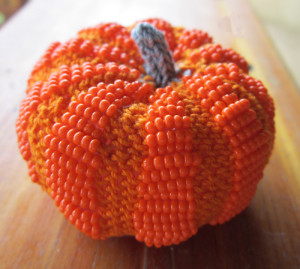 Here is the Shopping List so you can get your materials together now and be ready to start knitting along when the free pattern download link for members is posted later this week.
Shopping List
Crochet thread size 10 or equivalent (e.g. size 8 perle cotton):
– 10 yards orange
– 1 yard green
Knitting needles size 0 (2 mm) suggested for gauge of 12 sts = 1″: set of 4 double point needles (Note: non-slippery wood or bamboo preferred)
4 – 20″ strands of pre-strung size 11/0 seed beads in color dark orange (if you are stringing your own loose beads, you will need 1330 beads, approx 15g) Note: size 10/0 beads can be substituted, if needed
About 24″ of 12″-wide clear saran wrap (or other material of your choice for lightly stuffing the pumpkin to give it stability)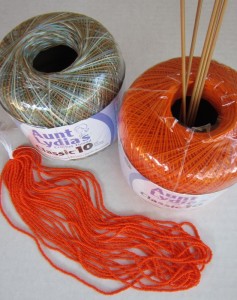 (at left) I used Aunt Lydia's Classic Crochet Size 10 in colors Pumpkin and Aspen Multi. (for the green of the pumpkin stem, I used a length of green from the Aspen Multi rather than getting an entire ball of green!).
Pre-strung beads come in hanks of 12 strands with each strand usually 20″ long. One hank will make 3 pumpkins.
Pattern
I will post the Little Beaded Pumpkin pattern in a couple of days. When available, the pattern will be free to KnitHeartStrings.com members during September. Meantime, I wanted to give you a heads up so you can get your beads, thread and needles ready to knit!
Be sure to let your knitting friends know that they can join KnitHeartStrings for free and get  a free pattern, too. Thank you for sharing and spreading the word.