August's project in the BOBBOL 2013 Series
BOBBOL 2013 is the nickname for Bits of Beads/Bits of Lace, and expands the popular Bits of Lace 2012 Series with additional types of small lace projects and the addition of projects for building skills in beading.
Are you a cat lover (or know someone who is)? Kitty In Your Lap Towel features a friendly feline friend. Make this useful, practical item for yourself or someone deserving a bit of kitty love.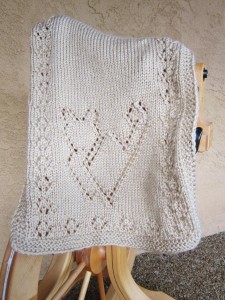 Crafty knitters, spinners and crocheters all know the value of using a towel in your lap to provide protection from stray fibers as well as give contrast/lighting for better visibility of stitches or drafting zone.
This project is knitted with heavy worsted weight yarn, proving that not all lace needs to be knit on tiny needles with teensy yarn.
If you missed the knit-along for Kitty In Your Lap Towel, you can purchase the pattern now while still taking advantage of the free instructions for 2 additional bonus versions (a square lap cloth or pillow top AND a spa cloth) plus tutorials, tips & techniques.
Knit, learn, and enjoy the making!
p.s. If you are a new member and have not yet confirmed your newsletter invitation, be sure to do that so you do not get disconnected/removed from the system and can no longer access this site for members-only content. More info at The Key to Keeping Your Free Membership Active.