March's project in the BOBBOL 2013 Series
BOBBOL stands for Bits of Beads/Bits of Lace, and expands the popular Bits of Lace 2012 Series with additional types of small lace projects and the addition of projects for building skills in beading.
With Pretty Awesome Yarn Pouch, you'll get to bring together lace and beads to make an awesome drawstring bag for center-pull yarn balls or cakes. This project also introduces the crochet hook method of bead placement.
Pretty Awesome Yarn Pouch will give your yarn balls a pretty dress-up while protecting the yarn itself. The drawstring loops can also be placed over your arm for on-the-go knitting. Even your fussiest balls will love being tamed by this protective pouch.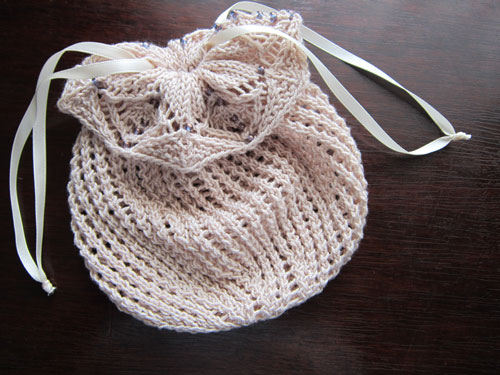 To use, just put your ball/cake in the pouch so that the center-pull yarn tail comes out the top, then pull the drawstrings closed. The peek-through spiraling lace mesh is super stretchy and will accommodate amazingly large balls/cakes. As the enclosed yarn is used up, the bag collapses to help keep the ball tidy and tangle-free.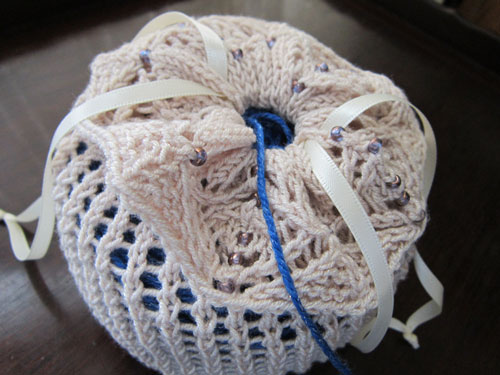 If you missed the knit-along for Pretty Awesome Yarn Pouch, you can purchase the pattern now and still take advantage of the free support articles for making this project.
Knit, learn, and enjoy the making!
p.s. If you are a new member and have not yet confirmed your newsletter invitation, be sure to do that so you do not get disconnected/removed from the system and can no longer access this site for members-only content. More info at The Key to Keeping Your Free Membership Active.