Congratulations to Carole Moraine, winner of the October Prize Drawing for the Luxury Smoke Ring Kit. Thanks to everyone participating, sharing and supporting the KALs and Prize Giveaways. I couldn't keep KnitHeartStrings going without you.
November Giveaway Prize: Bitty Beady Christmas Tree Gift Kit
In time for gift-giving season, this month's KAL prize drawing is for HeartStrings' most popular design for holiday decorating: Bitty Beady Christmas Tree. Bead "ornaments" peek in and out of the trellis lace branches on this tiny traditional-looking Christmas tree. The branch tips are formed with serrated edging, giving a realistic look.
The prize is a complete kit including hard-copy pattern, yarn and beads to make one bitty tree in your choice of color combos, along with a coordinating greeting card and matching envelope.
Knit and give the little tree as a gift (maybe even keep it for yourself?). Or gift the kit to a knitting friend to make for themselves.
There are 20 holiday color combos offered. I'll even string the beads on the yarn for you if you want. Check out the color offerings for Bitty Beady Christmas Tree in the KnitHeartStrings Online Store.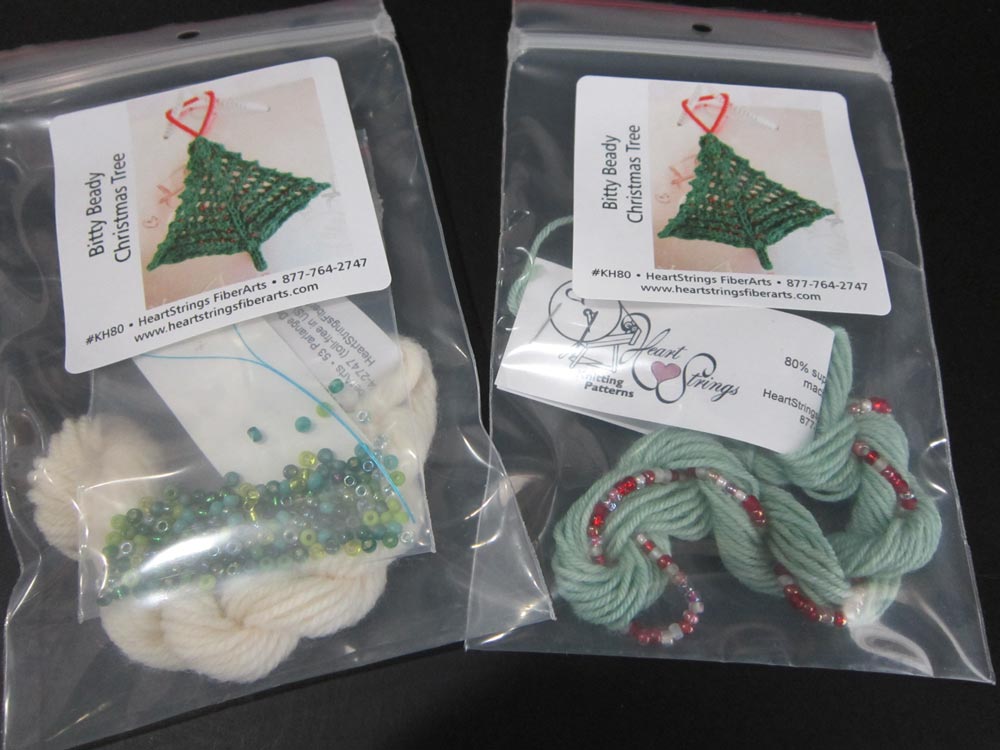 The coordinating greeting card with matching envelope makes a nice gift enclosure to go along with either giving the kit itself, or with your completed bitty tree.
To Participate in the November Prize Giveaway
See the Monthly Prize Giveaway page to see how you can win this month's Bitty Beady Christmas Tree Gift Kit.
A random drawing will be held right after I tally the entries following November 30, 2014. I'll announce the winner as soon as possible after that. I hope the winner will be YOU! Good luck.
p.s. You can also purchase Bitty Beady Christmas Tree as a pdf pattern, additional Kits with hard-copy pattern to gift to knitting friends, or Supplies Pak without pattern to make more bitty trees in an assortment of holiday colors.