Introducing knitting with beads in the BOBBOL 2013 Project Series
Note: The free download offer on Beading Hearts Friendship Bracelet pattern for January has expired. Please visit the Store to purchase Beading Hearts Friendship Bracelet and other pdf e-patterns, kits, supplies and tools.
Give the gift of friendship with a heartfelt, hand-knitted beaded bracelet. The basic knit stitch and an easy bead knitting technique make Beading Hearts Friendship Bracelet quick and fun for even a beginning bead knitter.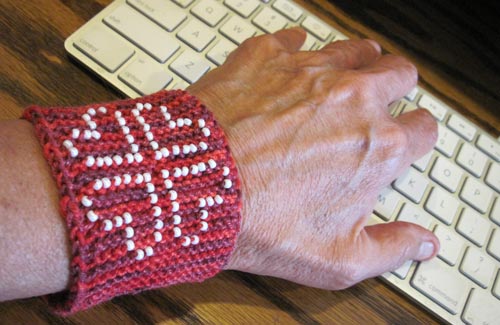 If you have been avoiding learning to knit with beads because you think it is too hard, I hope this little project will tempt you to try. Even if you already know how, I think you will find the project fun (and who knows, you might even pick up a tip or trick along the way).
Knit, learn, and enjoy the making!
p.s. If you are a new member and have not yet confirmed your newsletter invitation, be sure to do that so you do not get disconnected/removed from the system and can no longer access this site for members-only content. More info at The Key to Keeping Your Free Membership Active.