Introducing knitting with beads in the BOBBOL 2013 Project Series
Give the gift of friendship with a heartfelt, hand-knitted beaded bracelet. The basic knit stitch and an easy bead knitting technique make Beading Hearts Friendship Bracelet quick and fun for even a beginning bead knitter.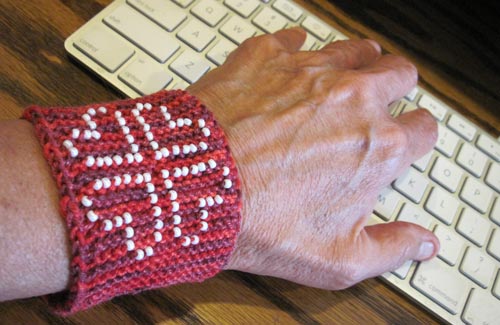 If you have been avoiding learning to knit with beads because you think it is too hard, I hope this little project will tempt you to try. Even if you already know how, I think you will find the project fun (and who knows, you might even pick up a tip or trick along the way).
If you missed the knit-along for Friendship Bracelet, you can purchase the pattern now and still take advantage of the free support articles for making this project.
Knit, learn, and enjoy the making!
p.s. If you are a new member and have not yet confirmed your newsletter invitation, be sure to do that so you do not get disconnected/removed from the system and can no longer access this site for members-only content. More info at The Key to Keeping Your Free Membership Active.