Introductory Special – Free Trial Membership Level
You get access to exclusive member-only content for 20 days plus your first Learn-and-Knit-Along pattern for free.
Price: Free!

Thereafter you can continue on at the Limited Content level for free access to most member-only content, and only pay for those KAL patterns you want (plus you get 50% discount as long as you keep your free membership active). Anytime during the 20 days or later, you can upgrade to Basic or Premium to get extra benefits like monthly free patterns, extra entries in the monthly prize drawings, etc. See an Overview Comparison of the Membership Plans.
---
Join at the Basic Level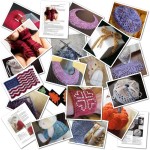 You get a year's worth of monthly Learn-and-Knit-Along patterns for free, unlimited free access to select member-only content, and Birthday Club.
---
Premium Membership has its privileges
Become a VIP member! Get all the goodies of the Basic Level plus additional benefits with a Premium Level Membership.
---